Being the insane over-organizer that I am (thanks, Mom), I have an entire spreadsheet dedicated to restaurants I want to try. There are columns for the name, the location, the type of food, a dollar-sign system for rating how expensive it is, a column for checking off when I've been there, and a field for notes to keep in mind before and after visiting.
As crazy as it sounds, it has actually been really helpful over the years. Who doesn't walk around their city and spot a cool cafe or restaurant and think "I'll have to remember that!" – and then promptly forget all about it. You forget the name, or you forget where you were wandering when you saw it… just enough to make it impossible to Google later. … or is that just me?
Anyway, the point is, I've created an identical spreadsheet for restaurants in Paris. A month out and I already had half a dozen line items with everything from a burger joints (for a taste of home) to fancy gourmet venues (special occasion? yes, please) to places that serve afternoon tea and tiny sandwiches (pinkies up, everyone!).
No one can say I'm unprepared.
Well, except for like the actual living and navigating the city part, but that's like, whatever. I'm focused on the important things.
—
Aside from food, I also am incredibly excited about the opportunities for travel once I'm based in Paris. Within France, out of France, I want to go EVERYWHERE. We hadn't even booked my flights to France yet and I had already planned the first weekend trip I wanted to go on (to Bruges, in case you were wondering).
Needless to say, I have a spreadsheet for that, too.
This one has multiple sheets!
There's a Paris sheet: Things to do in and around Paris. Museums (with notes about special openings and stuff), sites, etc. Columns include: the name, the location/arrondissement, notes, and relevant links.
There's a France sheet: Cities and places to visit in France outside of Paris. I want to dance sur le pont d'Avignon and all the way down through lavender-land to St. Tropez. Columns include: the destination, where/the region, how long it takes to get there, and notes to remember.
There's an Ailleurs (elsewhere) sheet: Everywhere else in Europe I want to go! To be honest, the other sheets were afterthoughts to this one, once I realized I was entirely focused on leaving France once I got there. Columns include: country, mode of transportation (train/plane), how long it takes to get there, notes, and when I want to go.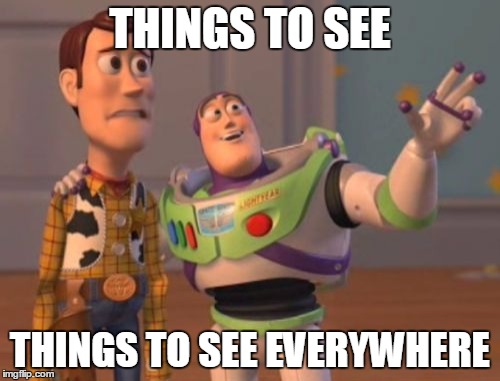 My lists just keep getting longer and longer. But we nailed down that first trip and I am SO excited. I have had Bruges on the brain for years. I tried to plan a visit from Wales, but circumstances and lack of company meant that it fell apart. So I've been thinking about it for about 5 years, and I'm FINALLY going. Naturally, I made another document to plan it.
But wait, there's more
What, you thought the nerding was over?
No no. I have an entire detailed document with dedicated sections for Activities, Food & Drink, and Accommodations for every trip I've made in the last few years. Depending on the destination and time of year, the Activities section might even be broken into two: indoor and outdoor. They get filled with things I want to do or see, links to the appropriate websites, links to Groupons or other deals associated with it, and other useful notes.
Again, it sounds crazy, but it usually just turns out to be crazy useful. Not only do you have a working list of things you'd like to do so you aren't wasting time once you get there, but simply creating the document forces you to become at least vaguely familiar with the destination, where things are relative to other things, and general navigation. Super helpful once you've hit the ground running. AND since I exclusively use Google Docs for this (and the restaurant spreadsheets), I can share access with whoever I'm travelling with so they can view and add whatever they find as well. (Just try to breathe through the control issues when they add things wrong differently than I would… and then fix them later so it looks nice)
Our trip to Bruges is a short weekend getaway in November. I've had that document drawn up since August. Oops.
And then I was so deeply in PLANNING MODE that I went ahead and created a whole other document for our next trip.  I also sketched out our next, next trips, both weekends and longer stays, for next year. Honestly I think I have a problem. But I can guarantee we won't be sitting around wondering what to do!
I really tried not to plan 2 trips in advance, especially before I had even left this country but I just couldn't help myself. In December, for my Frenchman's birthday, we are going to Vienna. I cannot wait to see Vienna at Christmastime, all done up with lights and festive decorations (and hopefully a dusting of snow, for a touch of fairytale romance).
So where else am I headed?
St. Tropez/Nice/Cannes
Provence (Lavender!)
Amsterdam
Prague
Scandinavia
Munich
Rome
Lisbon
….
It's easy to get caught up in the excitement. And once you start Googling articles and places to go and TripAdvisor reviews… that rabbit hole is deep, my friends.